Zygote Games: Where Fun Begins!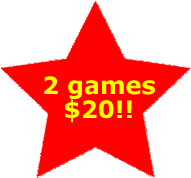 Why Zygote Games? The natural and scientific world is a place of tremendous wonder, dramatic complexity and rich opportunity for learning, discovery, and fun.Yet kids have all too few avenues into this world. Adults also feel cut off from the fun and wonder of the real world of science and nature. Zygote Games creates pathways to this place.
Announcements

Parasites Unleashed is NOW SHIPPING! Get infested here. Or find our more about the game.
And you can still get make use of rock ham

mer and your brush. BONE WARS is still here! Order your copy here. Or find out more about the game.
We now offer a discount if you're shipping to an educational institution. See our order page.